SAM: Sistema de Arte Motorizado (2020)
Instalación de video en 11 canales.
Primer premio del concurso Pasaporte para un Artista 2020 bajo el tema de Dependencias/Independencias, organizado por la Alianza Francesa de Lima y la Embajada de Francia en el Perú.


SAM viaja por las calles de Lima para visitarte. En realidad, está trabajando. En este caso, graba el movimiento de la moto en tres ejes, aunque también disfruta del paisaje. Algunos dirán que es "independiente", pero sin datos está perdido. No te preocupes, todo está diseñado para que pueda recargar baterías. SAM sabe que este trabajo es distinto, porque esta vez se queda con el valor del viaje.

Sistema de Arte Motorizado cuestiona las modalidades que disfrazan la precarización del trabajo bajo el supuesto lema de autonomía del capitalismo de plataformas. A través de la misma aplicación de delivery, busca generar nuevas formas de creación, reconociendo en el proceso, las relaciones y condiciones necesarias para generar otras alternativas de interdependencia.

Algunas_nubes_no_cambian/ Some_clouds_don't_change (2020)
imágenes digitales/ digital images


Base de datos de nubes que no se mueven en Perú. Resultado de la colaboración con el proyecto COCO-lands.

puedes seguir las nubes

aquí



ENG / Database of clouds that don't move in Peru. Result of the collaboration made with the COCO-lands project.
you can follow the clouds

here
Data Corporal (2019)
Instalación de tomografías y radiografías con corte láser, luces LED y tela / Installation of tomographies and radiographs with laser cut, LED lights and cloth.
Data Corporal es una instalación in-situ para la muestra "Ensayo/error" en el espacio Sótano1.
ENG/ Data Corporal is an in-situ installation for the show "Ensayo/error" in Espacio Sótano 1.


Simbiosis (2019)
[1]Artefacto con mecanismo de rotación, bolsas de sangre, sondas, microcontrolador / Rotation mecanism artifact, blood bags, probes, microcontroller.

[2] Dibujos: Técnica mixta sobre papel de electrocardiograma/ Drawings: Mixed media on electrocardiogram paper.

Simbiosis es una mirada de flujos, conexiones y transferencias. Aunque también de fusiones, mezclas y alteraciones. La hibridización de este tecnocuerpo se introduce en un terreno que problematiza los límites de la manipulación, programación y control sobre la vida misma bajo la actual mutación conectiva.
ENG/ Simbiosis is a glance of flows, connections and transfers. Also of fusions, mixtures and alterations. The hibridization of this technobody takes on a glympse of the limits to manipulation, automated programming and control over life under our current connective mutation.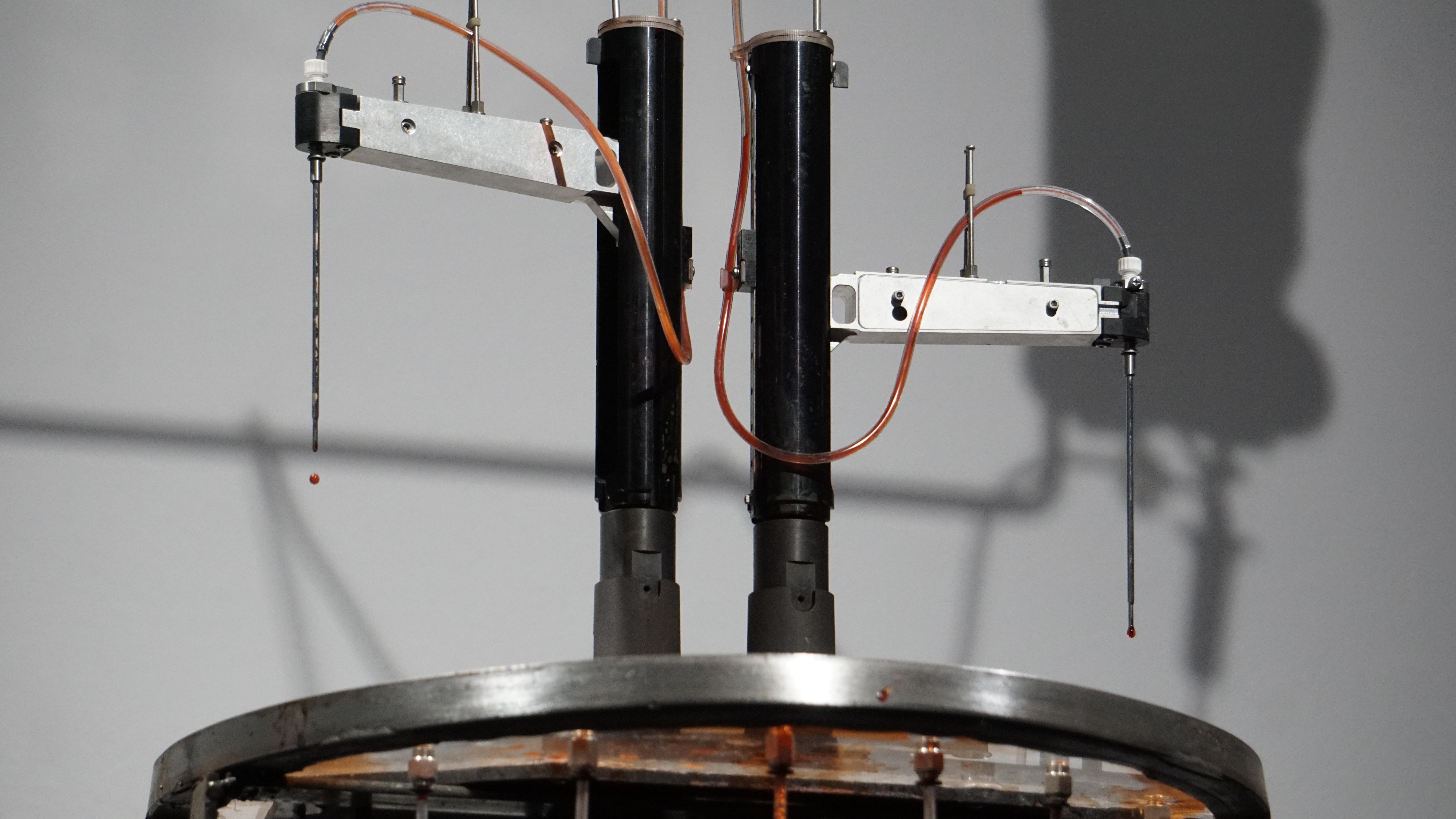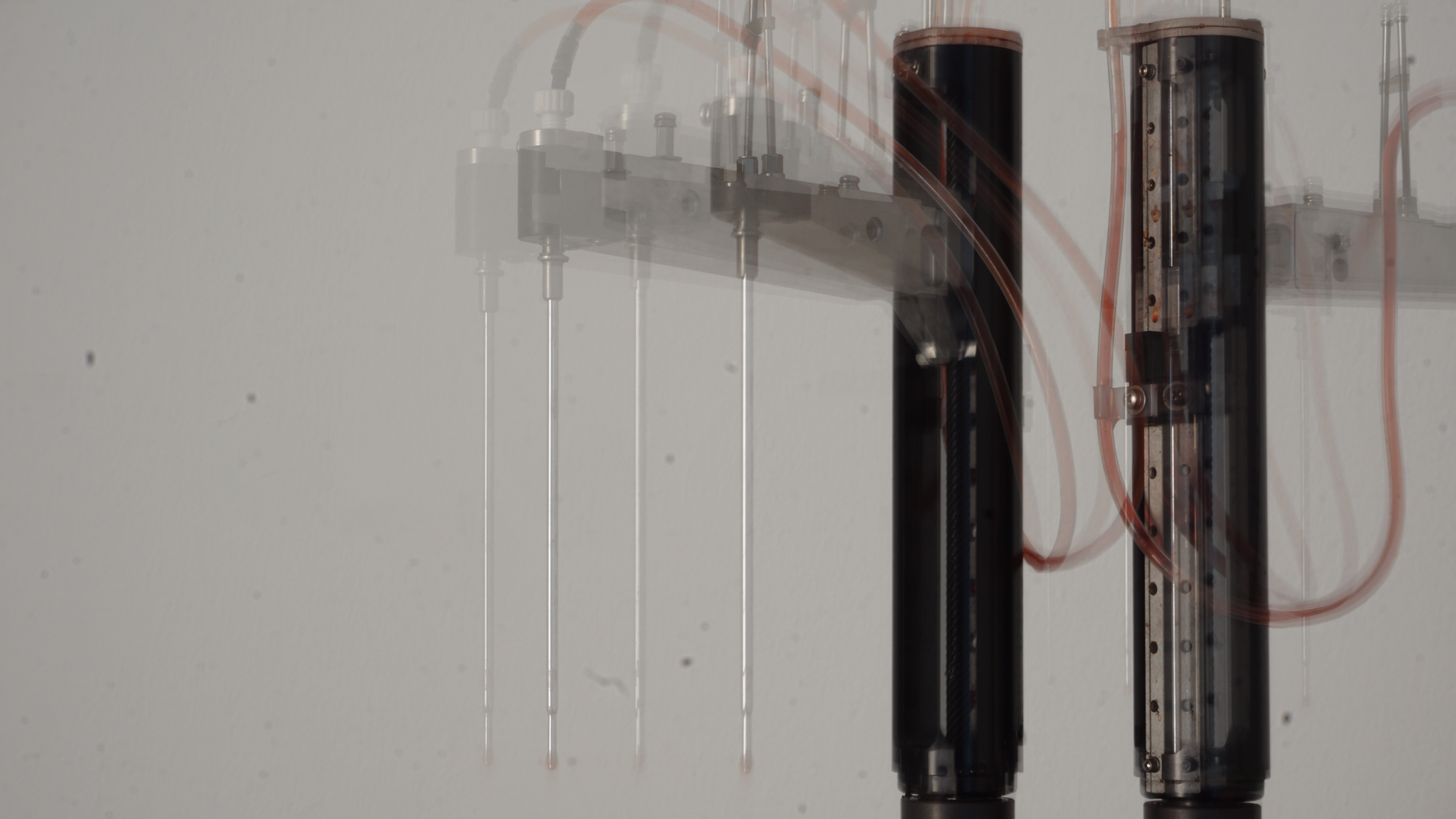 Signos Vitales (2018)
[1] Temperatura Corporal º_
Papel térmico, cautín, motor DC, microcontrolador / Electrocardiogram thermic paper , soldering iron, DC motor, microcontroller.
[2] Pulsaciones_
Estructura metálica, vidrio, bomba de agua, tinta, sondas, cables, amplificador, sensor de sonido, microcontrolador, piezo eléctrico/ Metallic structure, glass, water pump, ink, probes, cables, sound amplifier, sound sensor, microcontroller.
[3] Descom.presión_
Estructura metálica, sondas, motor DC, tinta, bomba de agua, microcontrolador, sensor de pulso/ Metallic structure, probes, DC motor, ink, water pump, microcontroller, heartbeat sensor.
En interactividad con las distintas tecnologías de la información, hoy la vida es entendida bajo términos de actividad y producción de información. La creciente datificación que opera desde nuestros bolsillos hasta las nubes, aparece como un proceso homogeneizador que hará de la traducción del mundo y de la vida un problema de código: sistema calculable, reproducible y manipulable en su nueva forma abstracta datificada. El proyecto Signos vitales pone en cuestión las nociones de vida dentro del marco de una biopolítica informacional que opera a escala global convirtiendo todo bajo un mismo lenguaje encriptado.
ENG/ In interactivity with different information technologies, life seems to be understood in terms of activity and information production. The increasing datafication that operates from our pockets to the clouds, appears as a homogenizing process that is translating life and the world into a problem of code: calculable system, reproductible and manipulable in its new data abstract form. Signos Vitales questions the notions of life in the context of our informational biopolitics that operates in a global scale, transforming everything under the same encrypted language.